The latest news
02/14/17
We are still here, maintaining this site :-)
Wow 4380 brochures online !
01/06/16
In support Magazines/Articles, under Bit magazine, there are the articles about the Picocomputer.
09/30/15
Brusaporto Retrocomputing 2015, october 4 2015

09/24/15
Wow 4380 brochures online !
08/16/15
Fixed the download problem of the android app, now should work.
09/16/14
Gianni, Gianni, Gianni ... questa me la devi proprio spiegare. Un abbraccio.
09/02/14
Brusaporto Retrocomputing 2014, october 26 2014

01/24/14
Happy birthday Mac !
What 'was your first Mac?
11/09/13
3,000 online brochures. The biggest vintage brochures collection ! Thanks to all the collaborators !
10/26/13
We participated in Brusaporto Retrocomputing 2013.
Excellent manifestation.
09/27/13
Brusaporto Retrocomputing 2013, october 20 2013


My favorites links:





Visitors since april 17, 1998:










Today visitors:







Yesterday visitors:








Currently there are 2999 users online.


I su e i giu' di Steve Jobs. Il fondatore della Apple e della Pixar, l'inventore del Mac e dell'IMac
Notice
If you find materials taken from other sites without any kind of credits or back reference, please send an email to the .
Now on smartphones too! Retro1000.BiT
Welcome to our site dedicated to vintage computers !
Why 1000 bit ?
There are so many sites about vintage computers and the good names are gone... You have to read 1000 in binary digits !
Yes ! We are talking about 8 bit computer, but also about everything that is personal computer's history. So here you can find also information about your computer with the good 68000, for example ! 1000 bit is talking about all the bits history.
Why are we here ?
For fun. Yes, that's all, for fun. We are working at this site in our spare time, and so sometime you could find this site not working or with strange errors, but don't worry, at the end, everything will run fine, perhaps !
We are collecting not only computers, but also manuals, documentation,. brochure, advertisings, tips & tricks, infos and everything about old computers and people who invented and worked on them, with them.
If you notice that the site is not updated often as you would like, remember: we are playing with our old computer !
Yes, to play with these old computers it's our first goal, after that there is all our passion in this hobby that bring us to find the old manuals, to try to repair these machines or simply to polish them.
Why should you be here ?
Here you can find not only some useful informations about old computers but also old advertising, old brochures, old magazines or manuals.

Well, this site has been thought to help you to keep track of all your old stuff!
To maintain your collection on this site you need to fill a simple registration form in order to get your personal UserId and Password. You can decide to keep your collection private, in this way your collection will be visible only by you, the owner.

How add a computer to your collection ?
First you need to find the computer in database, then you'll find on the left a link button to add that computer to your collection and then you can add others info like acquisition date, the status of the machine etc. etc. It's harder to explain than to do!!
Remember, this function is available only when you are logged in.
On the form you can fill all the fields you need, like the acquisition date, the status of the machine ecc. ecc.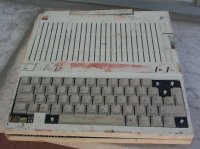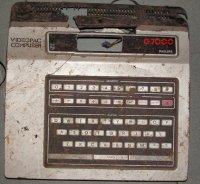 Don't let these old friends disappear in this way!
(Picture by Alberto Cavalcoli)
That's all, it's easy and it's free!
- o -
If you have materials that you think interesting for this site, please . Take a look at my wishlist. I am always looking for pictures, infos and old advertising.


The internet service is booming to the full. By using simple website templates, voila! and you are on the net. Gone are the times when it you heard terms like advertising agencies as now you will find them looking for their website promotion.
Today you are scrambling through for your business hosting, or most probably wanting to acquire an online phone. It's amazing to notice the I.T. world taking over!