The last one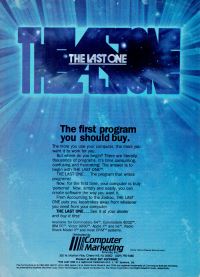 Today I found myself in front of this advertisement.
The first program you should buy.
The last one ... the first program that writes programs!
I remember it, I had seen it running on my Apple IIe, but the version for Apple, if I remember correctly had a bug, did not handle correctly the "if".
However, it must be admitted that it is fascinating, a winning idea! The program that writes programs, what a dream!
Thirty years have passed and we have not yet succeeded.
First the fourth generation languages, then object-oriented programming, then CASE etc. etc.
Then new languages, new challenges, internet, smartphones ...
Along the way, I do not see the finish line.
Posted by Webmaster : 21/03/2018 16:04:35 | Login to enter your comment |
Comments