History of the OS/2 operating system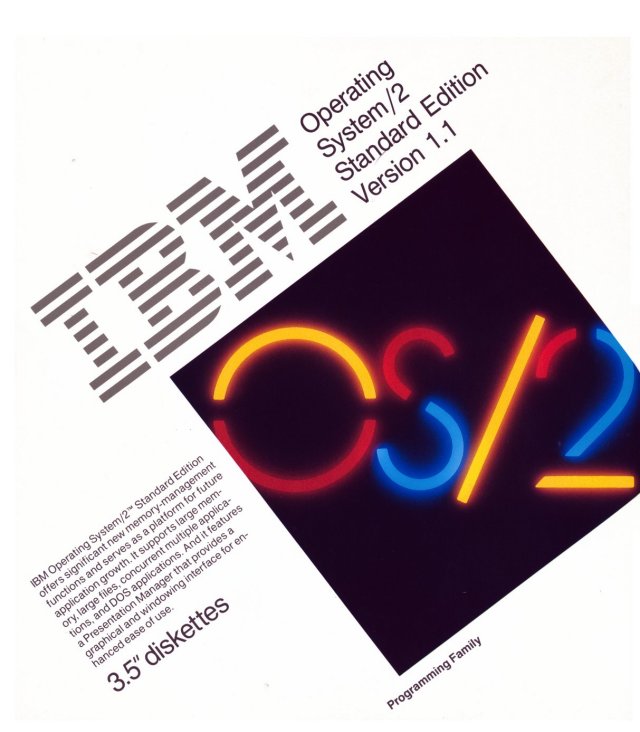 OS/2 is an operating system born from an idea of IBM to provide a new system to its new series of computers called Personal Computers /2.
IBM signs an agreement with Microsoft for a joint development of the new system, we are in April 1985.
The new "Operating System / 2" 1.0 was announced in April 1987, the commercial launch took place in December of the same year.
However, to have a version a little complete, we have to wait for version 1.2 of 1989, here we finally find the graphical interface (Presentation Manager), support for TCP/IP and Ethernet and other features for modern networks.
In 1990, Microsoft realizes that it creates a dangerous competitor for its Windows system, and decides to abandon the project.
In fact, Windows 3.0 is a great success, and is installed by default on new computers, while OS/2 must be purchased separately.
Already seen with MS-DOS and CP/M-86.
The two companies then have different visions of the market, Microsoft aims to install their system on any machine, as had done for MS-DOS, while IBM instead wants to give priority to their PS/2 systems.
OS/2 1.x still works at 16 bit, while, since 1988, Windows/386 supports multitask on 80386.
It turns out that Micorsoft since 1988 is developing its own Windows NT system, which should have been OS/2 3.0.
In fact, the first versions of NT support the OS/2 file system and even in the copyright notes, OS/2 is mentioned.
However, finally in April 1992 OS/2 2.0 arrives which is finally 32 bit even if some parts are still 16 bit.
The IBM product continues to grow to incorporate new features and updates.
In 1994 OS/2 Warp arrives, which is version 3.0. A new name outside the IBM standards to underline a new "freshness", in fact in the new S.O. multimedia support, internet and much more are included.
In 1996 OS/2 Warp 4 comes out with Java support and voice recognition.
OS/2 is focusing on the professional business and seems to be enjoying some success, but in the end it is overtaken by Windows NT.
Although it is probably better than Windows 95, then OS/2 can not even enter the consumer market, rather it would premise OS/2 on their PC Aptiva, replacing Windows 95, but eventually must capitulate.
In 2001 developments are interrupted, the latest version is 4.52, but official support ceased only in December 2006.
OS/2 is used successfully in bank systems, train ticket offices and other niches where IBM has always been very present.
Incredibly, in 2015 a new release called ArcaOS is announced, subject to payment.
https://en.wikipedia.org/wiki/OS/2
https://www.arcanoae.com/
Posted by Webmaster : 23/06/2018 21:32:52 | Login to enter your comment |
Comments